Meet the Team at Lively Run Dairy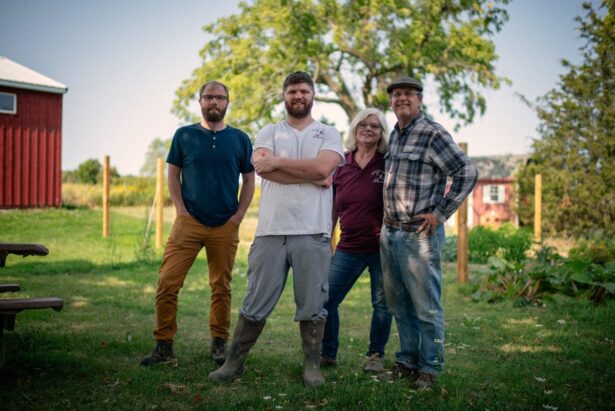 About the Family
Steve and Susanne Messmer took over Lively Run Dairy in 1995. Lively Run Creek Farm had been in business in Interlaken since 1982, being a pioneer in the goat cheese industry in the United States.
From a fairly young age, Pete and Dave Messmer have been engulfed in the family farm and cheese making lifestyle. Throughout the years, Steve and Susanne have taught their sons everything they knew about cheese, the cheese making process, and business ownership.
Steve and Susanne are excited to have the next generation step in and bring Lively Run Dairy's products and experience to the future.
Pete Messmer –  Head Cheese Maker and Production Manager
Since he was a young boy, Pete has always had a passion for food and for story-telling. Making artisan cheese gives him the ability to do both: use cheese as a vehicle to tell the story of the milk, microbes, and the land and terroir where they come from. As the Head Cheese Maker, he is deeply committed to making unique and original cheese that reflects the culture and identity of the Finger Lakes.
"I'm incredibly excited to be a part of the team that will bring Lively Run to the next level with my brother, Dave, and the sister that I never had, Katie Shaw. By expanding our cheese sales nationally, we want to bring a little slice of the Finger Lakes to the rest of the USA and the world, and share the passion and love we have for this uniquely beautiful region and community." – Pete Messmer
When not making cheese, Pete loves spending time outside on his mountain bike or fishing the many streams of the Finger Lakes area. If the weather is bad he can be found inside with a glass of scotch and some Hemingway, Tolkien, or Ed Abbey.
Dave Messmer – Chief Financial Officer
Dave is passionate about team leadership and community building, and looks forward to bringing that energy to the team. His main responsibilities are to lead the  team to complete their strategic goals and evaluate the success of the company. He has been involved as a financial and strategic consultant for Lively Run Dairy since 2013 and currently works part time for Lively Run Dairy.  Dave is a graduate of Cornell's Dyson School of Applied Economics & Management.
"Guiding this business into the future and to a new level of success has long been a dream of mine. Our parents have invested many years into building a company founded on the principles of sustainability, quality, and community. Our  team is proud and excited to grow our company and bring our products and values to new customers." – Dave Messmer
When not doing business-related things, Dave is usually riding one of his bicycles, hiking and climbing up mountains, or building furniture in his woodshop.
Steve Messmer – Chief Operations Officer
Steve has always been the visionary at Lively Run. Expanding the production to include cow milk cheeses, introducing the private label service where customers can have their cheese made by our expert team in our facility, and increasing the farm activities to include cultural experiences, music and the arts are his brain children.
Susanne Messmer- Retail  Manager and Goatherder
Susanne is concentrating her efforts to offer a bigger variety of agri-culinary tourism programs on the farm. This includes Goat Yoga, Bottle Feeding baby goats, taking Goats on a walk, expanding the herd at Lively Run to include fiber and meat goats. Visitors can taste the cheeses, enjoy chevre cheese cake and monthly specials in the cheese shop. Special celebrations are being planned for the coming year.
About Lively Run Dairy
Lively Run Dairy is a family owned and operated creamery located in the Finger Lakes Region of NY. Since 1982, they have crafted delectable artisan cheese inspired by the historic Finger Lakes food culture in a way that honors people, animals, and the land. They aim to empower their employees, customers, partners, and the greater community to live healthier, happier lives.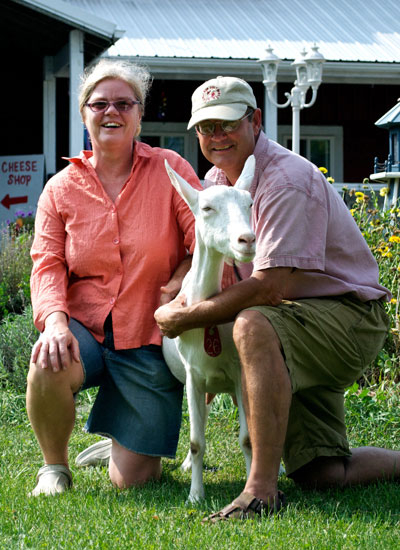 Lively Run Dairy's  Cayuga Blue was awarded first place in its class at the American Cheese Society Cheese Contest in 2017.
Finger Lakes God Reserve was awarded first place in its class and entered the best of show competition at the American Cheese Society Cheese Contest in 2019.
For updates about the farm, please sign up for our newsletter.