Lively Run Goat Yoga
Lively Run Goat Yoga June and July 2022
Lively Run Goat Yoga is baaaack! Our program runs from June through July. By the end of July we will wrap up Goat Yoga, as our kids will be too big!
Having learned from last year's season we are starting the program in June, not May. Last year we endured snow squalls and cold and though we have a tent to shield us from precipitation, the chilly temperatures were not conducive to practicing yoga. It is kind of hard to do downward dog with your winter coat on!
Like last year, we are offering open yoga classes on Saturday and Sundays. Private groups can be booked by calling the office at 607-532-4647 or email susanne@livelyrun.com .
Kimberly Zajac https://livelyrun.com/from-the-farmer/kimberly-zajacs-bio/ of Lucky Stone Yoga and Lively Run Dairy will be teaming up again  to bring goat yoga back in 2022! Enjoy a full hour of yoga with the goats of Lively Run Dairy and then enjoy a tasting flight of Lively Run cheeses at a discount!
A great thing to do during your next Finger Lakes vacation! Only a hop, skip, and a jump away from Ithaca, Geneva, Seneca Falls, and the wineries of Seneca Lake and Cayuga Lake.
Get tickets for open Goat Yoga here:https://livelyrun.com/products/yoga-tickets-june/
Chair Yoga
Do you think you can not participate because of  balance issues or other limitations? Don't fret,  Chair Yoga is here to make this experience all inclusive and can also be booked as a private event for groups.
Just let us know at the time of booking, of your choice of a chair. Or give us a call to book your private group for a chair yoga exclusive event.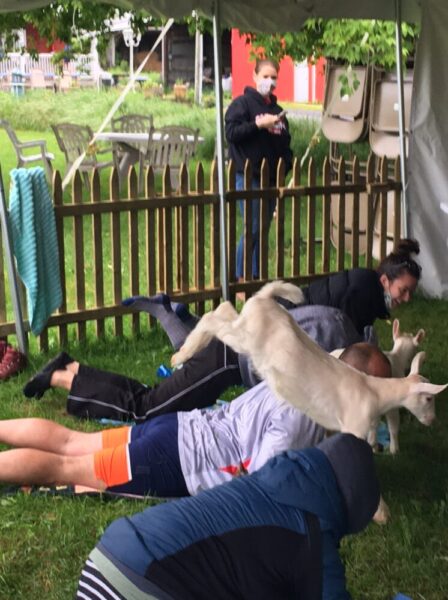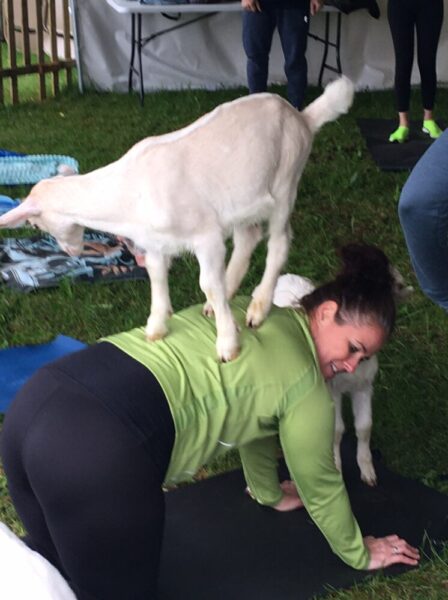 Things to know about goat yoga:
Goat kids can pick a random mat or human for a quick nap, romp or nibble. Be ready to be part of their playground.
Wear something you don't mind getting a little dirty that's made of a non-slippery material.
Don't wear long dangly earrings or shirts with fun dangly pieces or straps. They look too tasty!
Give your mat a good cleaning at the end. Goats are live animals.
Closed containers of water only.
Bring your camera.
Arrive 15 – 20 minutes early to ensure proper check-in time.
Bring a shirt that covers your back and shoulders (goat hooves are not pillowy).
Be prepared to get silly!