Goat Cheese
Lively Run Dairy is a family-owned creamery located in the Finger Lakes Region of New York and one of the longest operating commercial goat dairies in the country, beginning production in 1982. We are pioneers of goat cheese in the United States domestic market.
We produce small-batch, hand-made artisanal goat and cow cheeses that are inspired by the Finger Lakes region. Our milk comes from known, sustainable sources and each batch is crafted carefully by hand. Decades of experience have culminated in consistently high products, as well as the ability to develop custom products to specific high volume customers.
Our Goat Cheese Selection
Cayuga Blue
Cayuga Blue is our award-winning goat's milk blue cheese. Marbled throughout with blue mold as deep in color as the lake that it was named after, Cayuga Blue is a true rarity: an entirely goat's milk blue cheese.
Finger Lakes Gold Reserve (10 months)
Our Finger Lakes Gold Reserve is our award-winning hard goat cheese that is aged for 10+ months with a slightly crumbly texture. It is perfect for snacking right off the wheel or grating over pasta.
An off-dry Riesling from the Finger Lakes pairs nicely with the nutty and caramel flavors of the cheese. The Finger Lakes Gold Reserve is named after its beautiful yellow-golden rind.
The Finger Lakes Gold Reserve aged goat cheese won first place in its class of "Goat's Milk Cheese Aged Over 60 Days" and was a best-of-show finalist, ranking it in the top 15 out of 1,742 products submitted in the 2019 American Cheese Society (ACS) Cheese Contest.
Chevre
Our Chevre is delicate, with a creamy texture that is balanced by a slight lactic tang and grassy, pastoral notes. It is a very versatile cooking cheese that is equally useful for savory dishes, like cheese dips or salads, and sweet recipes, like cheese cake or panna cotta.
Herbs Include: Dill, Herbes de Provence, Rose Peppercorn, Za'atar, Garlic and Pepper.
Feta
Feta is a firm and very salty Balkan-style cheese. Aged for one month in salt brine, our Feta develops a crumbly texture that is perfect for use in salads, omelettes, pizzas or anything that would benefit from a salty kick.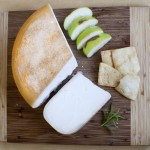 Finger Lakes Gold (4-months)
Finger Lakes Gold Aged for at least four months, the Finger Lakes Gold is mellow and nutty in flavor and firm in texture, with a beautiful gold- yellow natural rind.
The Finger Lakes Gold works nicely with egg-based dishes and melts very well. It is also a wonderfully unique addition to any cheese board, pairing well with cured meats as well as jams or fruit.