Warm Winter Salad by Davina Horrocks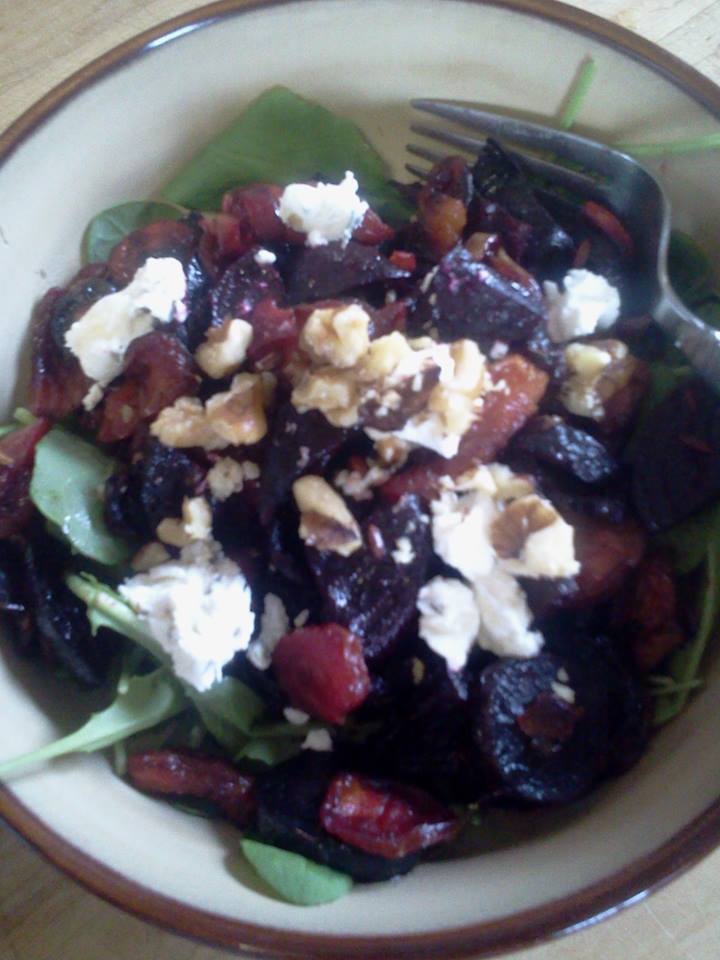 The best part about this recipe is that it uses local seasonal ingredients, so you really get a taste of home. Quarter or halve and slice root vegetables thinly, so they are fairly uniformly sized.
Serves 2.
Assorted root vegetables of your choice (Six Circles Farm, Lodi)
ex: 1 large beet, 2 purple carrots, 2 orange carrots, and 1 rutabaga
1 medium yellow onion halved and sliced (Six Circles Farm, Lodi)
1 garlic clove, sliced (Six Circles Farm, Lodi)
1 tsp. ground ginger
1/2 tsp. curry powder
kosher salt to taste
2 Tbs. olive oil
3 c. arugula (Countryside Market, Interlaken)
2 tbs. balsamic vinegar
2 oz. Chevre, crumbled (Lively Run Goat Dairy, Interlaken)
1/4 c. chopped walnuts (optional)
-Preheat oven to 425 degrees.
-Line a large cookie sheet with aluminum foil. Arrange sliced vegetables, and onion, and garlic on cookie sheet. Sprinkle with ginger, curry powder, and kosher salt. Drizzle on olive oil and toss until uniformly coated. Roast vegetables until tender, turning once.
-Divide arugula between two bowls or plates. Drizzle 1 Tbs. balsamic vinegar on each. Top with roasted root vegetables, chevre, and walnuts. Enjoy!
This recipe was entered in the 2013 Holiday Recipe Competition that we held on Facebook