Goat Cheese-Raspberry Espresso Brownies by Krums Corner Bakery
Krums Corners Bakery is the in-house bakery for Gimme! Coffee. Make sure to check out their other delicious baked goods at a Gimme! Coffee location.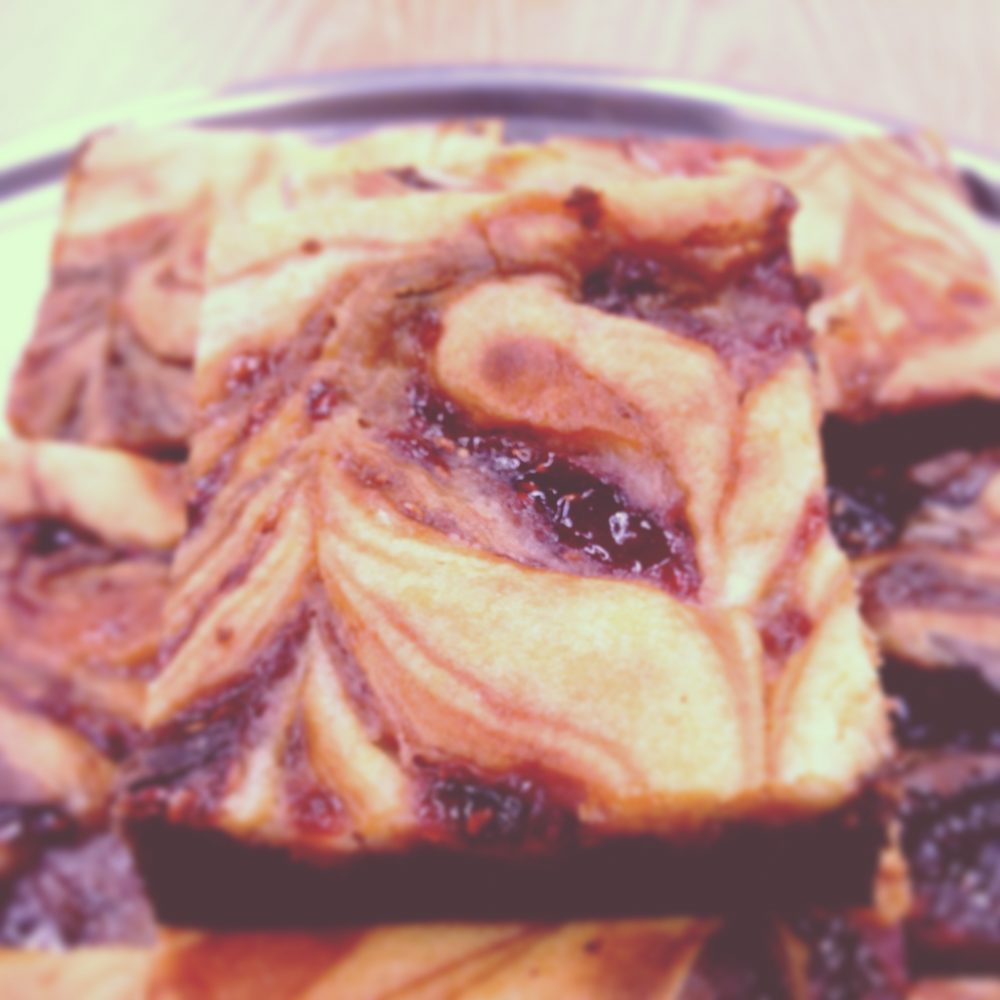 Makes 16 small brownies
For the brownies:
6 tablespoons unsalted butter, cut into pieces
4 ounces semisweet chocolate chips
2/3 cup sugar
1 tablespoon strong brewed coffee or instant espresso powder
2 large eggs, at room temperature
1 teaspoon vanilla extract
1/2 cup flour **for gluten-free brownies, substitute sweet rice flour**
1 tablespoon unsweetened cocoa powder
1/4 teaspoon salt
For the topping:
5 ounces Lively Run Chevre, room temperature
4 ounces cream cheese, at room temperature
1 large egg yolk
5 tablespoons sugar
6 ounces raspberry jam
Make the brownie batter:
Preheat oven to 350ºF. Line an 8×8 or 9×9″ nonstick square baking pan on all sides with parchment paper leaving a 2″ overhang.
In a medium saucepan, melt the butter over medium heat. Reduce the heat to low, add the chocolate, and stir until just melted. Remove from the heat, and whisk in the sugar and coffee or espresso powder. Whisk in the eggs and vanilla. Sift the the flour, cocoa and salt, then add to the chocolate batter.
Make the cheesecake swirl:
In the bowl of a stand mixer fitted with the paddle attachment, beat the chevre and cream cheese on medium-low until smooth, scraping down the sides of the bowl as necessary. Add the sugar and beat on medium speed until fluffy, a few minutes. Add the yolk and mix until combined.
Scrape the brownie batter into the prepared pan, and dollop the goat cheese-cheesecake mixture over the top in 7 or 8 big dollops. With a spoon, drop the raspberry jam on top of the cheesecake. Drag the tip of a paring knife through the batters back and forth a few times in both directions to swirl.
Bake the brownies until they are set and puffed all over, about 30 minutes.
Let the brownies cool completely in the pan, then use the parchment handles to lift the brownie out. Use a large chef's knife dipped in hot water and wiped clean between each cut to cut the brownies into 16 squares.
This recipe was entered in the 2013 Holiday Recipe Competition that we held on Facebook