Susanne Messmer Invited to Cook at James Beard House in NYC
Susanne Messmer Teams up with 6 other Finger Lakes Women to Cook at James Beard House in NYC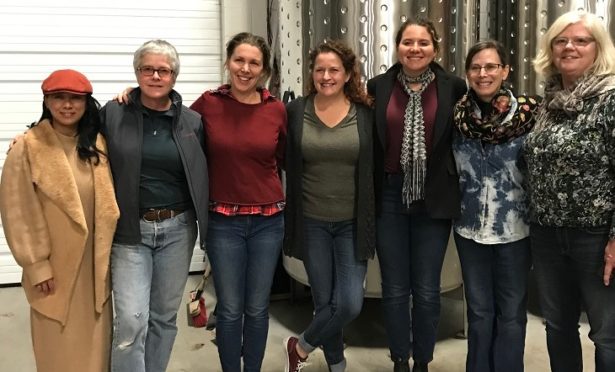 We are so excited to have our very own Susanne Messmer represent Lively Run Dairy and the agricultural bounty of the Finger Lakes Region at the James Beard Foundation's Finger Lakes Winter Fantasy event in New York City on January 18, 2020.
She will be cooking along side 6 other women, including Samantha Buyskes of Simply red Events and Culinary Adventures, Trish Aser of Brown Hound Downtown, Linnea Shumway of FLX Hospitality, Claire Rey Benjamin of Rue Claire Lavender Farm & Artisan Chocolate, Nancy Irelan of Red Tail Ridge Winery, and Autumn Stoscheck of Eve's Cidery – all who are culinary and beverage leaders in the Finger Lakes!
The James Beard Foundation offers a variety of events designed to educate, inspire, entertain, and foster an appreciation of American cuisine.
Multi-course meals, complemented by wine pairings, prepared by guest chefs from around the world. Dinners may highlight individual chefs or chefs from more than one restaurant. Chefs may cook their own signature cuisine, or cook around a particular theme, such as a specific ingredient or holiday.
When attending a dinner, guests are first invited to walk through the Beard House kitchen to meet the night's chef and observe the event team at work. They then enjoy a canapé reception, which takes place throughout the ground floor and in our garden (weather permitting). Diners then climb to the second-floor dining room, where they enjoy a five- to six-course tasting menu with wine pairings. The evening concludes with a question-and-answer session with the chef in the dining room.
Menu
Hors d'Oeuvre
Phyllo Cups with Onion Marmalade and Lively Run Chèvre
Tallow-Roasted Baby Carrots with Walnuts, Thyme, and Honey
Pork Belly Buns with Kimchi, Hickory Syrup, and Microgreens
Eve's Cidery Beckhorn Hollow 2018
Red Tail Ridge Winery Pétillant Naturel Rosé 2019
Dinner
Sprouted Lentil Salad with Coconut Cream and Thai Basil
Eve's Cidery Darling Creek 2018
Red Tail Ridge Winery Miscreant 2017
Creamy Bisque with Roasted and Pickled Root Vegetables, Smoky Lardons, and Olive Oil; and Root Vegetable Gratin
Red Tail Ridge Winery Block 606 Riesling 2013
Lively Run Goat Cheese Trio > Chèvre, Finger Lakes Gold, and Cayuga Blue with Raw Root Vegetable Salad and Hard Cider Vinaigrette
Eve's Cidery Autumn's Gold 2017
Eve's Cidery Pommeau NV
Moroccan-Spiced Lamb Leg with Fried Brussels Sprouts, Butternut Squash Hummus, Pomegranate Molasses, and Spiced Pistachios
Red Tail Ridge Winery Rebel with a Cause 2016
Land and Sea > Finger Lakes Caramelized Red Onion with Rue Claire Honey-Infused Walnuts, Utica Chile Flakes, Black Lava Salt, and Oaxacan Brownie Dirt; and Hand-Painted Chocolate Truffle Pearls with Passion Fruit, Lavender, Mango, Corn Flakes, Vanilla, Finger Lakes Maple Sand, and Miniature Jalapeño Honey Pearls
Red Tail Ridge Winery The Noble Pursuit Riesling 2018