WINNING RECIPE!!! Lively run Chevre and Cranberry Sticky Buns by Krums Corners Bakery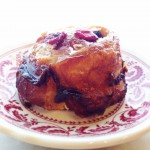 Krums Corners Bakery is the in-house bakery for Gimme! Coffee. Make sure to check out their other delicious baked goods at a Gimme! Coffee location.
-Makes 12 Buns-
Ingredients:
8 tablespoons (1 stick) unsalted butter, room temperature
1/4 cup light brown sugar
3/4 cup frozen cranberries
1 package (2 sheets) frozen puff pastry, defrosted
For Filling:
8oz Lively Run Chevre
1/2 teaspoon cinnamon
1 teaspoon cardamom
1/4 cup heavy cream
zest of one orange
1/2 cup light brown sugar
1 cup frozen cranberries
Directions:
Preheat oven to 400.
In the bowl of an electric mixer with paddle attachment combine butter and light brown sugar. Distribute mixture evenly among 12 cups of a standard muffin tin (about 1 Tablespoon each). Place 3-4 frozen cranberries in each muffin cup.
For filling: In the bowl of an electric mixer with paddle attachment combine chevre, cinnamon, cardamom, heavy cream and zest.  Mix until smooth. Spread evenly on the two puff pastry sheets, leaving a 1/2 inch border. Sprinkle each sheet with 1/4 cup of the Light brown sugar. Sprinkle 1/2 cup frozen cranberries on each sheet.
Roll each sheet snugly (like a jelly roll) and slice into equal rolls about 1 1/2 in thick (each sheet should make 6 rolls). Place each piece in a prepared muffin cup.
Bake for 35 minutes, until the buns are golden brown on top and firm to the touch.  Allow to cool for 5-10 minutes before inverting the pan.  Let cool completely and enjoy!
This recipe was entered in the 2014 Holiday Recipe Competition.