Lemon Thyme Olive Oil Cupcakes with Strawberry Balsamic Chevre Buttercream by Tyler Bowers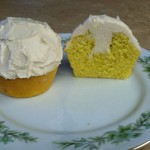 Cupcakes loosely adapted from Mario Batali's Rosemary Olive Oil Cake. Makes 6 large cupcakes.
Ingredients:
1½ cup all-purpose flour
1 tablespoon baking powder
½ teaspoon Kosher salt
4 large eggs
¾ cup sugar
finely grated zest from 1 lemon
½ cup lemon juice
¾ cup extra-virgin olive oil
2 tablespoons fresh thyme leaves
1 lb. Lively Run chevre, softened
12 oz. (1 1/2 sticks) unsalted butter, softened
1 cup confectioner sugar
1/4 cup strawberry balsamic syrup (recipe follows)
Strawberry Balsamic Syrup
1 lb. strawberries
1/2 cup sugar
1/4 cup balsamic vinegar
 Directions:
Preheat oven to 350⁰F. Spray a large cupcake/muffin pan with non-stick cooking spray and set aside.
In a mixing bowl, whisk together the flour, baking powder and salt. Set aside for a moment.
In the bowl of an electric mixer, use the paddle attachment to beat the eggs until the whites and yolks are uniform, about 30 seconds. Add sugar and continue to beat until the mixture is very foamy and pale in color, about another 3 minutes.
Add the lemon zest and mix to distribute into the batter.
With the mixer running, slowly drizzle in the olive oil and lemon juice. Turn the mixer to low speed and stir the fresh thyme leaves into the batter, then gradually add the dry ingredients in a three additions.
Pour the batter into the prepared pan, filling about 3/4 full. Place on a cookie sheet and bake on the middle rack.
The cake is done when it is golden brown, springs back when touched, and a skewer inserted in the center comes out clean, about 20-30 minutes
Allow the cake to cool in the pan for about 15 minutes, then tip out onto a cake rack to continue cooling.
To make the icing add the chevre and butter to the bowl of an electric mixer. Mix at medium speed with the paddle attachment until creamy. Add the sugar and mix at medium speed until it is incorporated and icing is fluffy. Add syrup and mix to incorporate.
Once cupcakes are cooled, cut a small hole in the top using either ring mold or sharp knife. Fill the hole with the buttercream, then frost the rest of the top of the cupcake with an offset spatula or knife.
Combine strawberries and sugar in a mason jar and muddle with a wooden spoon until strawberries release some liquid. Cover with a lid and let sit 1-2 days. Add balsamic vinegar, relid, and shake vigorously to dissolve sugar. Let this mixture sit for another 1-2 days. Strain through a fine mesh strainer. Syrup will last in the fridge up to a month.
This recipe was entered in the 2014 Holiday Recipe Competition.