Grilled Pumpkin with Goat Cheese & Lemon Zest by Emma Frisch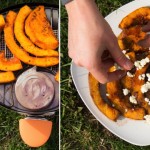 Emma Frisch is a cook, blogger (emmafrisch.com), free-lance food writer and former farmer. She is Co-Founder and Director of Culinary Experience at Firelight Camps (firelightcamps.com) and was a top finalist on Food Network Star Season 10.
Yield: About 4 servings
Preparation time: About 10 minutes
Cooking time: About 14 minutes
Ingredients:
1/2 small pumpkin, cut into crescent moons
3 tablespoons maple syrup
1/2 tablespoon pumpkin spice
1/3 cup crumbled, plain goat cheese
1/2 teaspoon sea salt
1/4 teaspoon freshly ground black pepper
1 tablespoon lemon zest
Preparation:
In a large Ziploc bag, shake together the pumpkin slices, maple syrup and pumpkin spice. Pack this in your picnic basket or backpack.
In a separate medium Ziploc bag, shake together the goat cheese, sea salt, pepper and lemon zest. Pack this in your picnic basket or backpack.
Fire up the BioLite CampStove with the Portable Grill attachment.
Once the grill is hot, use tongs or a fork to lay the pumpkin slices evenly on the grill (reserve extra maple syrup in the Ziploc). Cook for 5-7 minutes on each side, until charred and fork-tender.
Transfer the pumpkin to a plate and sprinkle the goat cheese mixture on top. (If you are making the Mushroom & Leek Quinoa Risotto, use the hot grill to prepare the leeks at this time).
Go the extra step. Replace the Portable Grill with the KettlePot and heat the reserved spiced maple syrup. This will only take a minute. Pour the warmed syrup over the pumpkin and devour.
This recipe was entered in the 2014 Holiday Recipe Competition.