2023 American Cheese Society Competition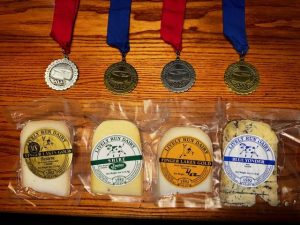 This was a great year for Lively Run Dairy! Our Cheese Maker, Pete Messmer had to go up on stage  four times to collect the awards for the cheese making team at Lively Run Dairy.
We received our first awards for 2 of our cow milk cheeses. Our cow's milk blue, Blue Yonder and our beer infused Shire won first places in their categories.
Our goat milk cheeses, Finger Lakes Gold and Finger Lakes Gold Reserve both place second in their categories.
Thanks to the incredible production team here: Pete Messmer, Ryan Dougherty, Valerie Delong, Lesly Contreras- Lopez and Neftali Hernandez in production. Office Manager Gloria Cassetti and the owners Susanne and Steve Messmer are keeping things moving .
Excellent cheese requires exellent milk! Thanks to our farmers Jennifer and Kayle Gabel and Jack and Jennifer Persoon!