Snacktime : An Interactive Wine and Cheese Experience
Snacktime : An Interactive Wine and Cheese Experience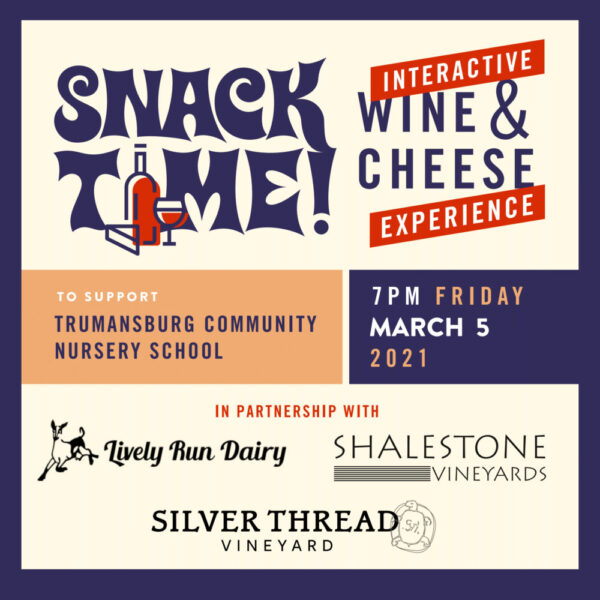 If there is one thing that we can all agree on during these challenging times, it is that snacks are necessary.  Very necessary.  They give us a respite from reality, a chance to enjoy the present and for a minute feel like everything will be okay. 
With that, we are pleased to be partnering with the Trumansburg Community Nursery School (TCNS) to bring you the all-important break at their very first Snacktime!  An Interactive Wine & Cheese Experience on Friday, March 5th at 7pm.  This virtual event will bring some much-needed cheer and raise critical funds for the school as we enjoy a snack together.   
This event will be a fun and informative vertical cheese tasting with wine pairing led by experts from our friends at Lively Run Dairy, Silver Thread Vineyards and yours truly.
We hope you will join us in celebration and support of TCNS and share this event with your friends and family.   Funds raised by your participation in this event will go directly to the scholarship fund which enables the school to provide access to their innovative play-based education for all children and families. TCNS is a not-for-profit 501c(3), that has been providing a high-quality parent-cooperative preschool program to children in our community for over 60 years.  
For tickets follow this link https://www.eventbrite.com/e/snack-time-interactive-wine-cheese-experience-tickets-139457201243