Silver Thread & Lively Run Virtual Wine and Cheese Tasting – Thanksgiving Edition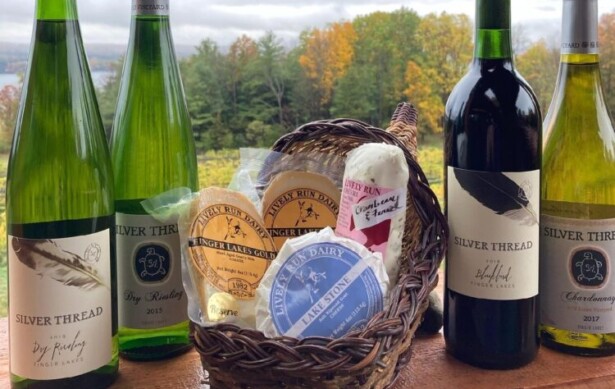 Make a perfect match for the Holidays with two of the Finger Lakes' best artisanal producers!
Join Silver Thread Winemakers Paul and Shannon Brock and Lively Run Cheesemakers Pete Messmer and Valerie DeLong for two nights of interactive wine and cheese pairing
Each week, two Silver Thread wines will be paired with two Lively Run cheeses. A winemaker will lead you through tasting and appreciating the wines, and a cheesemaker will explain cheese styles and production. Try out each combination and learn the secrets of wine and cheese pairing. You can order a four-pack of wines from Silver Thread and a four-pack of cheeses from Lively Run to taste along with the presenters.
Visit https://www.facebook.com/silverthreadvineyard/ to taste with us and comment. You do NOT need to be a member of Facebook to watch the live tasting.
November 13
Wine and cheese Aging, led by Shannon from Silver Thread and Pete from Lively Run, featuring Silver Thread's Dry Riesling 2015 & 2019, and Lively Run's Finger Lakes Gold and Finger Lakes Gold Reserve.
November 20
Thanksgiving Wine and Cheese Pairing, led by Paul from Silver Thread and Valerie from Lively Run, featuring  Silver Thread's Blackbird Red Wine & Chardonnay, and Lively Run's Cranberry and Fennel Chevre and Lakestone ( a soft ripened goat cheese coated with ash). Both cheeses will be made especially for this tasting and are not regularly available.