Meet the Next Leadership Generation of Lively Run Dairy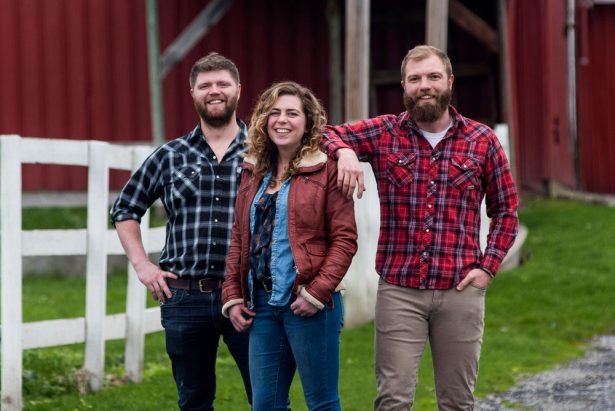 A new generation is taking the lead at Lively Run Dairy. After 25 years at the helm, husband and wife Susanne and Steve Messmer are stepping down and passing the torch to the new owners of the business: their sons, Pete and Dave Messmer, and their new business partner, Katie Shaw.
About the Next Generation
From a fairly young age, Pete and Dave Messmer have been engulfed in the family farm and cheese making lifestyle. Throughout the years, Steve and Susanne have taught their sons everything they knew about cheese, the cheese making process, and business ownership. Katie Shaw has been a long-time friend of the Messmer family and started working with Lively Run Dairy as the Marketing Coordinator after she graduated from Ithaca College in 2013.
Pete, Dave, and Katie are extremely proud to lead Lively Run Dairy and are dedicated to preserving the brand integrity that Steve, Susanne, and the entire family have worked hard to create over the last 25 years.
Steve and Susanne are excited to have the next generation take the lead, and they are happy to provide guidance where they can.
Pete Messmer – Chief Operations Officer and Head Cheese Maker
Since he was a young boy, Pete has always had a passion for food and for story-telling. Making artisan cheese gives him the ability to do both: use cheese as a vehicle to tell the story of the milk, microbes, and the land and terroir where they come from. As the Head Cheese Maker, he is deeply committed to making unique and original cheese that reflects the culture and identity of the Finger Lakes.
"I'm incredibly excited to be a part of the team that will bring Lively Run to the next level with my brother, Dave, and the sister that I never had, Katie Shaw. By expanding our cheese sales nationally, we want to bring a little slice of the Finger Lakes to the rest of the USA and the world, and share the passion and love we have for this uniquely beautiful region and community." – Pete Messmer
When not making cheese, Pete loves spending time outside on his mountain bike. If the weather is bad he can be found inside with a glass of scotch and some Hemingway, Tolkien, or Ed Abbey.
Dave Messmer – Chief Executive and Financial Officer
Dave is passionate about team leadership and community building, and looks forward to bringing that energy to the team. His main responsibilities are to lead the new team to complete their strategic goals and evaluate the success of the company. He has been involved as a financial and strategic consultant for Lively Run Dairy since 2013 and currently works full-time in finance for Corning Inc. Dave is a graduate of Cornell's Dyson School of Applied Economics & Management.
"Guiding this business into the future and to a new level of success has long been a dream of mine. Our parents have invested many years into building a company founded on the principles of sustainability, quality, and community. Our new team is proud and excited to grow our company and bring our products and values to new customers." – Dave Messmer
When not doing business-related things, Dave is usually riding one of his bicycles, hiking up mountains, or building furniture in his woodshop.
Katie Shaw – Chief Marketing and Sales Officer
During Katie's first tenure as the Lively Run Dairy Marketing Coordinator, the company doubled their sales and won the 2015 New York State Small Business Development Center's Agricultural Business of the Year Award. Over the last few years, she took a small break from working with Lively Run to work as the Content and Digital Marketing Manager at Communique Design and Marketing in Ithaca, NY, where she expanded her marketing, sales, and leadership skills. She remained extremely close with the Messmer family and continued to offer them marketing consultation and services during those years.
"When Pete and Dave approached me about becoming a partner of Lively Run Dairy as the Chief Marketing and Sales Officer, I was extremely honored. I realized that their offer was a once in a lifetime opportunity to be a part of a growing business with a product and team that I love. I consider the guys to be my brothers from another mother and I think that the three of us have complimentary skills that make a pretty solid team." – Katie Shaw
Before starting full-time at Lively Run in July, Katie is going to take a 2-month sabbatical to work on a cheese farm in the Italian Alps and learn everything she can about cheese, and to hike the 12-day Tour Du Mont Blanc trail in France, Italy, and Switzerland.
New Plans for Lively Run Dairy
The new team is formulating a plan to bring the company to a new level of growth, including expanding wholesale sales and setting up Lively Run Dairy as a national brand.
They are also growing their cheese shop and agri-culinary tourism program, where visitors can come to the farm in Interlaken, NY to taste their small-batch, handmade artisanal cow and goat cheeses, cuddle with goats, take a tour, or indulge in some goat cheese cheesecake on their porch. This year, they are offering baby goat bottle feeding tours and will be introducing different limited release cheeses at the cheese shop every month. There are also talks of goat yoga and cheesemaking classes later in the year. 
About Lively Run Dairy
Lively Run Dairy is a family owned and operated creamery located in the Finger Lakes Region of NY. Since 1982, they have crafted delectable artisan cheese inspired by the historic Finger Lakes food culture in a way that honors people, animals, and the land. They aim to empower their employees, customers, partners, and the greater community to live healthier, happier lives.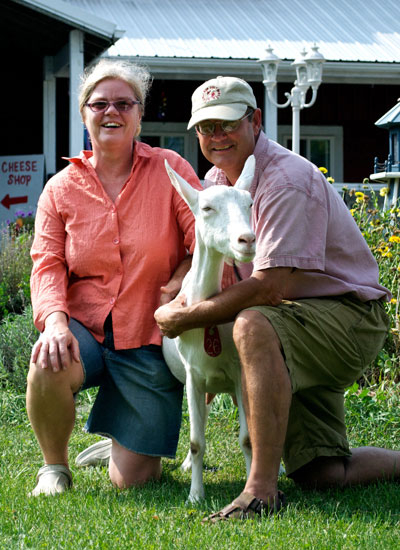 Their Cayuga Blue was awarded first place in its class at the American Cheese Society Cheese Contest in 2017.
For updates about the farm, please sign up for our newsletter.