Help us Make Cheese with Surplus Milk for Food Banks
We are making cheese from the surplus milk that would otherwise be dumped and donating it to local food banks.
Farmers in Upstate NY are being forced to dump milk because of oversupply. Meanwhile, food banks need more resources to help people in need. We're connecting the dots by purchasing dumped milk and turning it into cheese.
No Milk Waste
We need your help! The global COVID19 pandemic has resulted in many forms of waste and destruction: people have lost their lives and livelihoods as businesses have been forced to shut down to help stem the spread of the virus.
As the demand for milk from restaurants and institutions like universities has disappeared, dairy farms are being forced to dump their milk. So, why are there shortages of some dairy products on shelves at grocery stores? And at the same time, why are food banks having trouble accessing enough food to feed hungry people who have recently lost their jobs?
It is a dairy processing issue. Dairy processing plants are turning milk away because the plants have either reached full milk storage capacity or aren't designed to produce dairy products for sale in grocery stores. Many of these plants are set up to produce bulk packaging used for restaurants and institutions.
When we started seeing photos sent from our dairy friends and articles being published about farmers being forced to dump milk, we connected the dots and realized that we could help turn the situation around.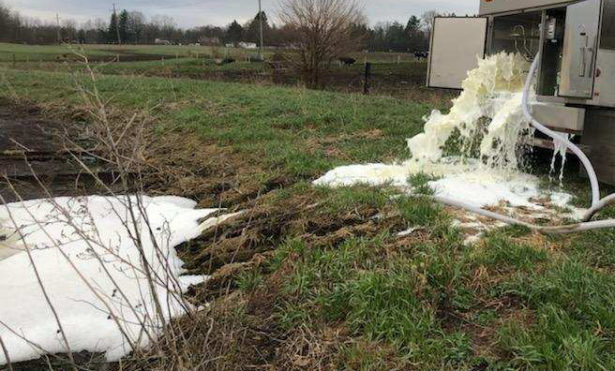 Fighting Hunger with Cheese
The money that we raise will be used to subsidize the surplus milk from farms who are dumping it, and to cover production costs of the cheese. Donations in excess of production costs will be donated to farmers who are dumping milk and to food banks.
The cheese we make will be donated to any Food Bank who will take it. We will reserve a small portion of the cheese to give to those who have donated as a thank you for your donation. Lively Run Dairy will not be profiting from this project.
We have set up a nonprofit organization called Lively Run cheese for New York to implement this idea in conjunction with the Center for Transformative Action (CTA) in Ithaca, NY. The plan is to continue to raise funds and work with other cheese makers in New York State to replicate the cheese donation project that they have started.
On April 27, 2020 Governor Andrew Cuomo announced that New York State will be working with dairy producers to make products from surplus milk and donate the products to food banks. We are thrilled that New York State is implementing this idea and we  hope that New York State supports innovative small producers in its funding appropriation.
Update on the project as of April 30:
We are currently making cheese from surplus milk and they donated 150 pounds of cheese to the Interlaken Food Pantry, Ovid Food Pantry, Lodi Food Pantry, Press Bay Friendship Food Pantry, and the Trumansburg Food Pantry on Friday, April 24th.
Our next donation of about 400 pounds of cheese will be on Friday, May 1. The list of Food Banks that we donate cheese to will grow as our project grows.
So far, we are buying milk from Hidden Pastures Goat Dairy, owned by Andrew and Blake Place, who are currently dumping milk because they lost their market.
Please join us in helping these farms and food banks!
Perks:
Donate $100-$149 : Receive 8oz of Chevre and 8oz of Lake Effect Cheddar
Donate $150+ : Receive 8oz Chevre, 8oz Lake Effect Cheddar, and our Cookbook: "Cooking with Cheese in the Finger Lakes"
We guarantee perks until we reach our $20,000 goal. After that we will reassess based on inventory!
We are making cheese from the excess milk that would otherwise be dumped and donating it to local food banks.
Donate now to help! https://t.co/L499rOwLpR #gofundme #nofoodwaste #cheesesavestheday #cheeseloversunite pic.twitter.com/7tVTN6BAKG

— Lively Run Dairy (@LivelyRunDairy) April 18, 2020
Inquiries for Donations from Food Banks:
ALL INQUIRES for distribution should be sent ONLY to this email address:  livelyruncheesedonation@gmail.com
We will be building a network outward regionally from Lively Run, ensuring that we serve surround towns and keeping Tompkins, Seneca and Schuyler counties at the forefront,
At the moment we are officially partnered with the Friendship Donations Network with active contacts out for more. We are looking for transportation support.
Articles about Farmers Being Forced to Dump Milk:

– https://culturecheesemag.com/blog/nowhere-to-go?
– https://www.nbcnews.com/news/us-news/dairy-farmers-forced-dump-milk-demand-drops-amid-coronavirus-closures-n1182601?fbclid=IwAR2zP6iSVPX9wQWV5vnKSUneMUYCV-Pz8EB5X0sUsFAyHbsvunnQGXNvWu4
Media Coverage About our Story:
Governor Cuomo's Recognition of Lively Run Dairy in his May 5 Daily Email to NY Residents
Tompkins Chamber Member of the Week Highlight
News Articles
New York Now:
WENY:
Finger Lakes Times:
Bon Appetit:
Edible Finger Lakes:
WRVO Radio:
Planet Cheese by Janet Fletcher:
Cornell:
Bullvine:
WRFI:
Lancaster Farming:
Culture Magazine:
Social Distance Assistance Podcast:
Channel News:
Epoch Times:
Sustainable Dish Podcast:
Sustainable Dish Episode 109: Pete Messmer of Lively Run Dairy & Turning Farmers' Surplus Milk into Cheese for Food Banks
Ithaca Voice:
Lively Run Dairy uses excess milk to make cheese for food banks