Virtual Cheese Hour: May 14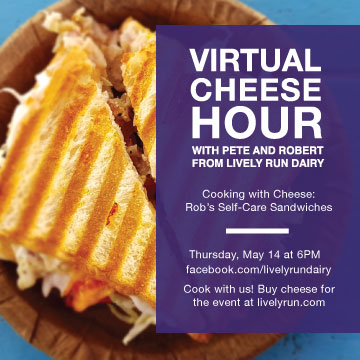 Join Lively Run Cheesemakers, Pete Messmer and Robert Theetge for a FREE virtual cheese hour on facebook live Thursday, May 14 at 6:00pm. Pete and Rob will be showing you a behind-the-scenes recorded video of them making cheese and then will be demoing how to cook two of Rob's self-care sandwiches: The House Grilled Cheese Sandwich and the Historic Trumansburg Scrambled Egg Salad sandwich.
Purchase this package that includes the basic products you will need for the FREE virtual cheese hour by Monday, May 11 at 5:00pm to ensure that the package gets to you before Thursday.
Lake Effect Cheddar
Chevre
Finger Lakes Gold
Hillcrest Dairy Pasteurized Butter
Before the Cheese Hour, we recommend you purchase some of the following products at your local grocery supplier:
Bread
Eggs
Olive Oil
Salt and Pepper
Garlic Powder
Bacon (optional)
Tomatoes (optional)
Blueberries (optional)
Pesto (optional)
Onions (optional)
Local red wine or beer (optional)