August Tasting Board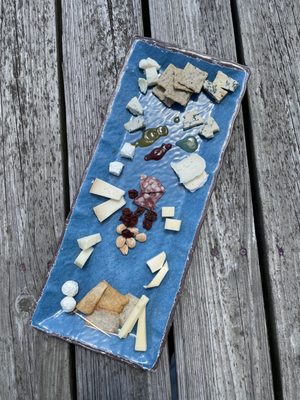 We have 12 cheeses on the Tasting Board in August! The 2 specials this month are:
" Browser", an 8 months aged goat cheese made in the style of a cheddar. The name refers to the fact that goats "browse", describing their habit of picking the tastiest tidbits when they are outdoors, a bite here a bite there. They prefer the higher growing leafy plants over grass.
" Blue Flame", back by popular demand! Cow's milk Blue with bits of Habanero! Definitely spicy and great on your grilled Hamburger!
Our staff will add condiments to the board that change daily. Here are a few possibilities: Salami, Summer Sausage, Honey, Membrillo, Hot Sauce, Almonds, dried Cherries, varied Crackers, Pita Chips.
With the board you get a "cheat sheet", describing the 10 cheeses that we always have.